Tuesday, February 14, 2006
Christine is the first of The Beauties. Sweet, shy, surprisingly wonderful.
The next Beauty...later...
Leah. Sexy, wild and explosive...
Posted by

Tomás de la Fuente
at 1:38 pm
7 comments:

Wednesday, February 08, 2006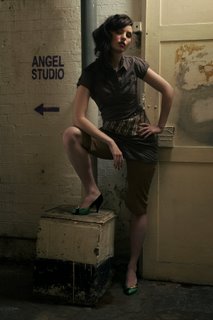 After 15 days out of this Blog world I am back to show you my latest pics. These are some examples of a casual fashion shooting I have recently made for Blow Back Magazine, a very interesting FREE magazine for young people.
I should say that this people is absolutely lovely!! It´s been a pleasure work for them!!! THANKS VANESSA WHITE & MIKE TREVORTON-JONES, for your help, dedication and support. And many thanks as well to Brett Earle (Hair Stylist) and Itziar Lorente (Make-Up Artist), they are such a very good professionals and so nice people! Special thanks to Super Josué (my super-assistant) also known as Oliver Wack or Mr Anaconda, and of course Alejandra my trip partner!! Also many thanks to the models, Christine, Leah and Ru, they did it very well!! And I leave untill the end the last person, but one of the most important, Samantha Chea, the super stylist! Very nice work!! You will become such a good stylist and I would wish to work with you,...one day! Thanks Samantiña for all your time!!! SEE YOU ALL IN THE NEXT SHOOTING!!!!
Posted by

Tomás de la Fuente
at 7:24 pm
2 comments: